Known for his pioneering contribution to the Dansaekhwa movement, Chung Chang-Sup (1927 – 2011) left a lasting mark on the international art scene with his beautiful monochrome paintings. Together with his contemporaries Lee Ufan, Chung Sang-Hwa, Yun Hyong-Keun, and Park Seo-Bo, Chung Chang-Sup founded the Dansaekhwa art group in the early 1970s, influencing an entire generation of modern and contemporary Korean art. Combining abstract minimalism with traditional Asian aesthetic elements, Chung Chang-Sup became a leading figure in this important global art movement.
His work is based on his Taoist belief that a balance must be achieved between material and nature. Therefore, he mainly uses a limited palette of neutral tones in his paintings, mainly beige, white, and black. His works are often attributed to the aesthetic of Western minimalism, as they feature a relentless repetition of geometric or graphic patterns.
Chung infused his work with traditional mediums and techniques, such as the use of tak, a paper made from the inner bark of the mulberry tree which is native to Korea. Chung's forty-year artistic technique reached its pinnacle with his last series, "Meditation", from which I will show most of the works in this article.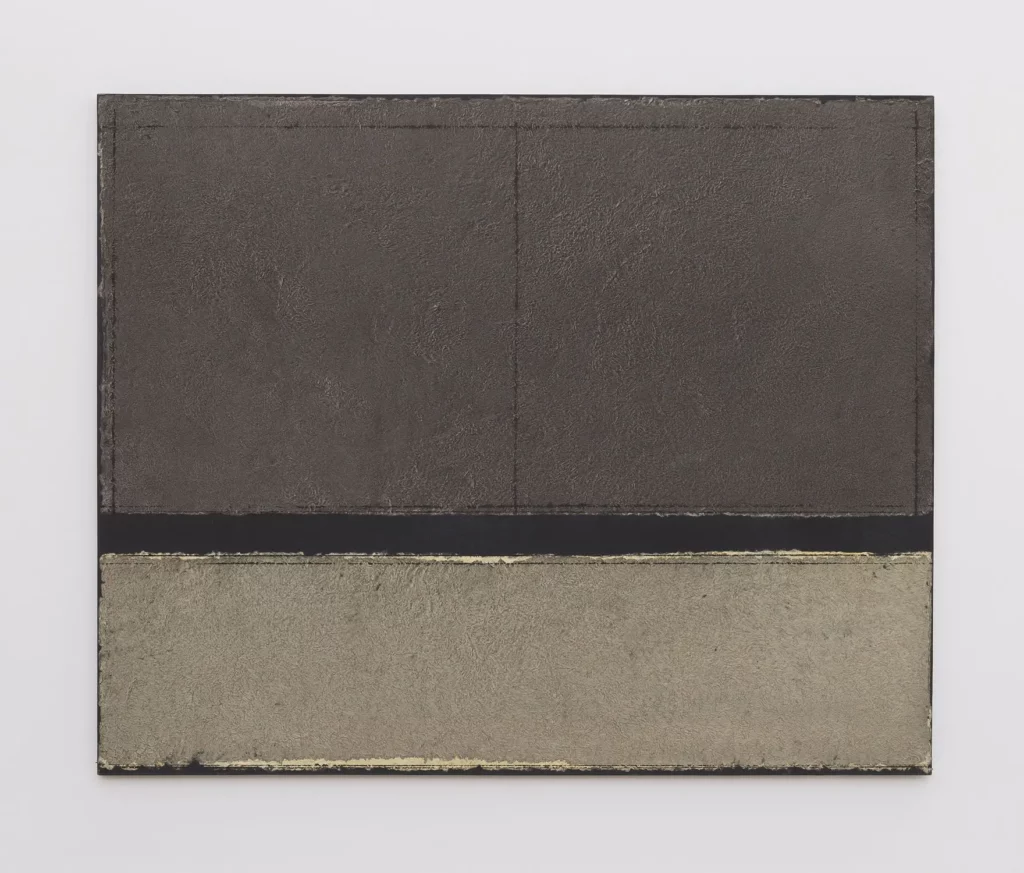 To create this series, Chung cleverly combined several natural pigments like tobacco leaves, charcoal, and paper mulberry sap, which collectively created a mellow yellowish hue. Additionally, Chung utilized the geometry of form and employed a wooden stick to shape a large square, thus creating a window-like effect. This brought him back to a defining childhood memory of observing sunlight filtering through a Korean tak paper window screen.1
Chung Chang-Sup's monochrome paintings represent tranquility and balance. His intricate works reveal a wealth of fine details that become more apparent upon closer inspection, deepening the viewer's understanding of the work. His art exudes an aura of peace, something Chung himself sought to achieve.
His works have been featured in various international exhibitions, including the 2015 Venice Biennale and a 2010 retrospective at the National Museum of Contemporary Art in Gwacheon.
I scoop up the pulp, spread it on a canvas, tap and knead it, and my conversation with the paper mulberry begins. Abandoning my own will, instead I await its spontaneous response.

Chung Chang-Sup1
Further Reading
1 https://www.axel-vervoordt.com/gallery/artists/chang-sup-chung
https://www.artsy.net/artist/chung-chang-sup
https://whitewall.art/whitewaller/seoul/chung-chang-sup-mind-in-matter