The Enter Art Fair, Scandinavia's largest international art fair in Copenhagen, opened its doors again this year to art collectors, enthusiasts, and visitors. An innovative platform for contemporary art, the four-day event brought together 88 leading galleries from 22 countries and offered a multi-faceted presentation of international artists to more than 20,000 visitors. Since its launch in 2019, the fair has not only doubled in size but also in the number of visitors. We had the pleasure of previewing the fair – and set out to hunt for highlights with a minimalist aesthetic.
This year, for the first time, Enter Art Fair took place in the stunning setting of Lokomotivværkstedet, one of Copenhagen's largest and leading venues. Once used to service Danish steam locomotives, this nearly 10,000m² site now offers a relaxed and inviting atmosphere. The first eye-catcher was a monochrome painting by Korean artist Yoo Hye-Sook, presented by Galerie Maria Lund from Paris. The intensely blue work provided a successful prelude to a variety of works with a minimalist aesthetic that we would be seeing.
In my opinion, the most aesthetically pleasing booth was offered by the Cadogan Gallery. The gallery presented the emerging Mexican-Swedish artist Andreas Diaz Andersson in a solo exhibition. It was the first time that Diaz Andersson's works could be seen in Denmark.
His works are characterized by minimalist abstractions, which he skillfully manufactures with cotton embroidery on canvas. They captivate with the artistic exploration of negative space, which gives the works their incomparable quality and appeal. By changing the viewing angle, the patterns and colors of his works change, creating a dynamic aesthetic experience – similar to the moiré pattern.
A seating arrangement made of dark walnut wood, equipped with two chairs and a coffee table, adorned the front area of the booth. The furniture comes from Atra, a Mexican design studio founded by Alexandar Diaz Andersson – the brother of the exhibited artist, a beautiful union of the creative output of the brothers.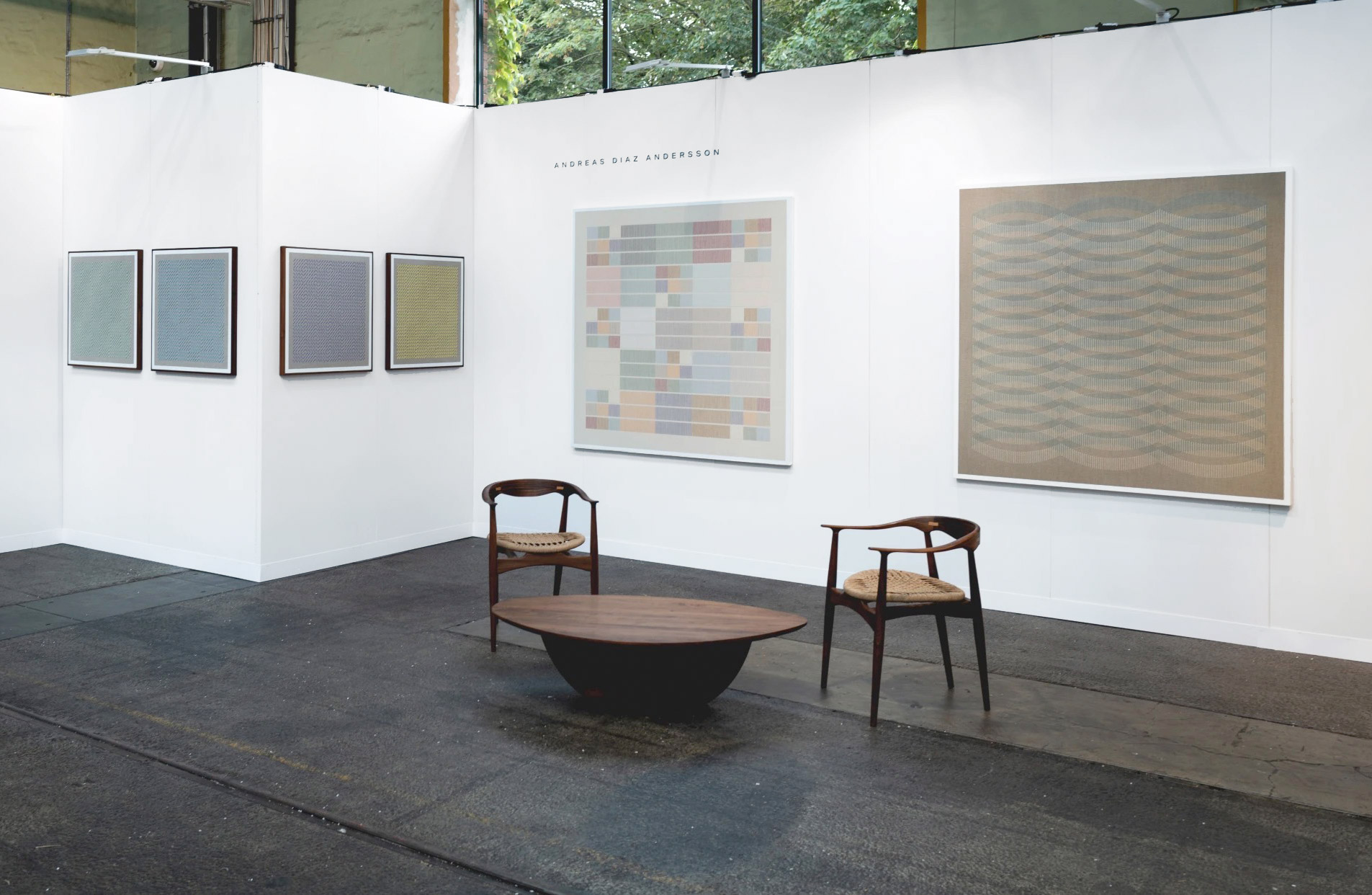 Galleri Benoni presented, among others, two paintings and a sculpture by Danish artist Carsten Beck Nielsen. The self-taught Beck Nielsen, whose artistic background is in graphic design, illustration, and photography, only began creating his minimalist paintings in late 2019. They are characterized by geometric shapes in bright colors and black and white. Beck Nielsen draws inspiration from concrete art, a stylistic direction characterized by simple, non-figurative language and clean lines.
At this point, I would like to mention that I am generally not a big fan of car sponsorships at art fairs. But the Audi Lounge, positioned in the back of the venue, was quite appealing to me. Works by German artist Benedikt Leonhardt were presented here. Complementing this, furniture by 1950s Danish designer Poul Kjærholm was used for the ambience, provided by Fritz Hansen, also a partner of the fair. This combination created a harmonious atmosphere.
OSL Contemporary presented a selection of recent small-scale watercolors by Scottish artist Callum Innes, who is known for his large-scale abstract works. Watercolor painting has been an integral part of Innes' practice for several decades. Despite their minimalist aesthetic, they left a strong impression on me. His works create a harmonious balance between simplicity and complexity – a testament not only to the artist's craftsmanship but also to his artistic vision.
There were several opportunities to buy food and drinks at the fair. Much of it was located in the outdoor area of the venue. Unfortunately, I was less convinced by the sculpture garden there. Not because of the exhibited works, but rather because of their presentation. Sadly, it was lost due to its somewhat hidden location between food and drink stands in the outdoor area.
Alzueta Gallery presented a beautiful selection of small and large format works by Dutch artist Nuria Maria. Her vibrant and captivating works draw the viewer in: the coloristic and abstract compositions show an interplay of color fields in which she explores landscapes and memories. Precise brushstrokes reveal themselves only upon closer inspection. It was nice to meet the artist in person at the location and have a short conversation with her. It is always a very enriching aspect of such events to get to know the artist behind the works.
Overall, I really liked the diverse selection of galleries and artists. I was particularly impressed by the amazingly large selection of art with a minimalist aesthetic. In summary, the Enter Art Fair in Copenhagen holds its own as an event worth seeing. I look forward to next year.
Further Reading