In the latest edition of our interview series, we once again dive into the world of minimalist aesthetics. In inspiring conversations with creative minds from the fields of architecture, design, and art, we explore how they are guided by their vision and how they express it in their works. Along the way, they provide us with interesting insights into their creative process and reveal how they perceive and shape the world. This time, I had the pleasure of having an inspiring conversation with Morgan Stokes.
Morgan Stokes (b. 1990) is an emerging artist from Sydney, Australia. Originally working as a digital designer, Stokes quit his job in 2019 to pursue art full-time. With his postminimalist, mostly monochrome works, he questions the way we perceive art in an increasingly digitalized world.
His work focuses on the human being, their experiences, and their perception of reality. In this interview, I spoke with Morgan about his creative process, the role of conventional painting in the face of technologies like AI, and the importance of materials in his art. He also tells us more about the meditative quality of his paintings and his views on the role that intentionlessness plays in his work.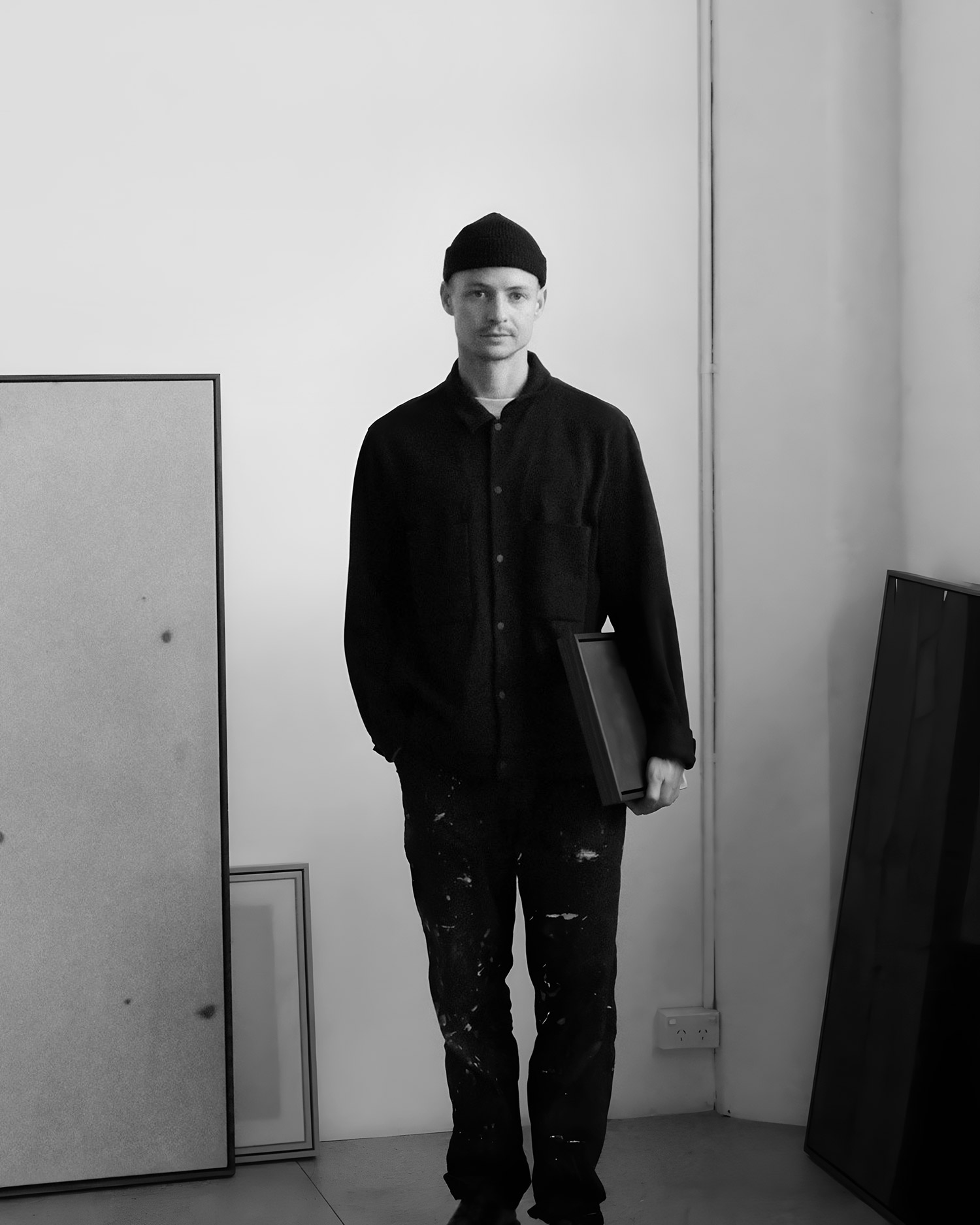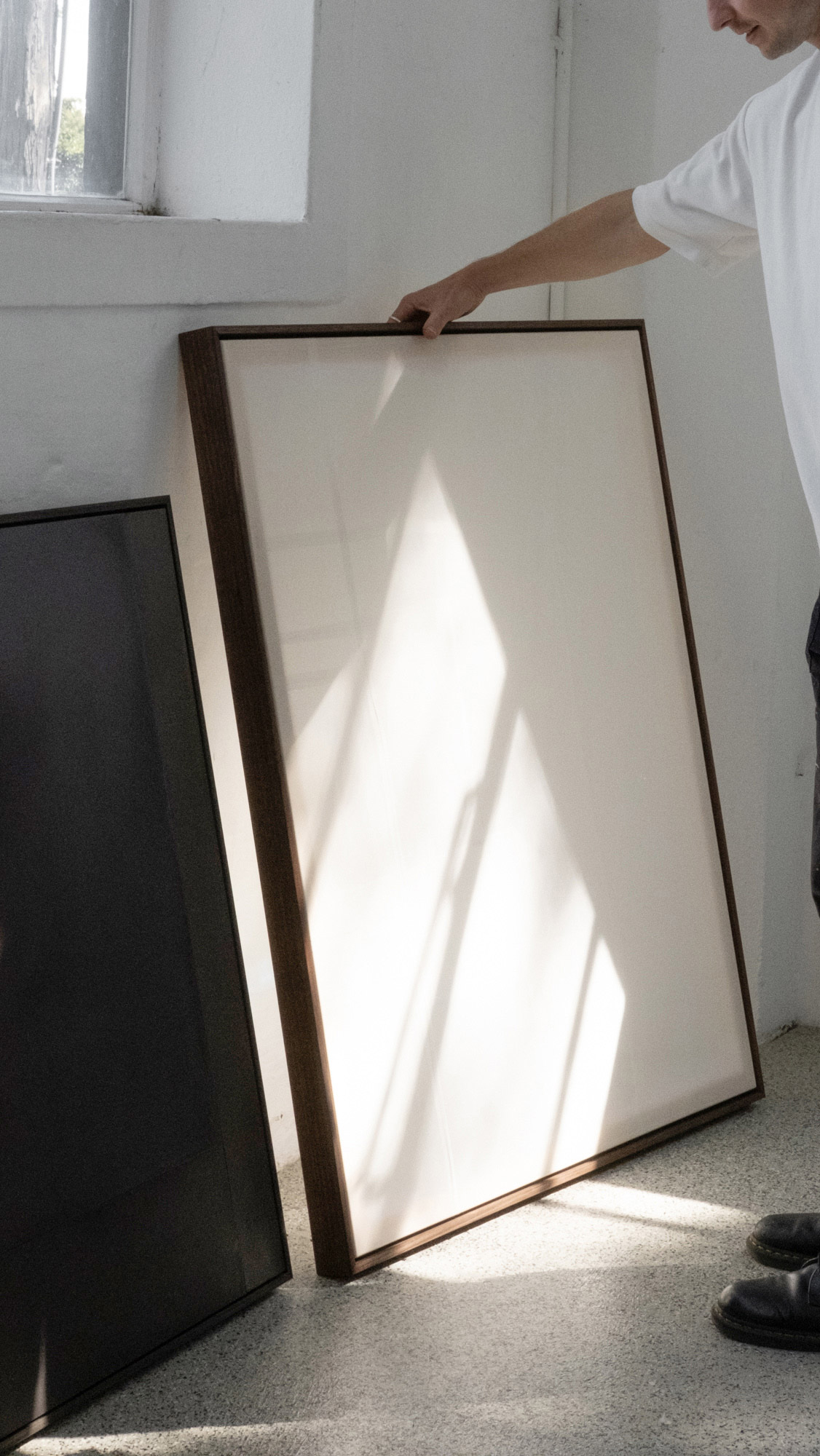 Hi Morgan! I'm glad you took the time to talk to me about your work. Let's get right into it: Back in the day, you left your job as a digital designer to pursue art full-time. Can you briefly tell our readers about that time in your life and how it influenced your current artistic career?
Hi Sarah, thank you for having me. It was a good time in the world – technology was the future, some people even still liked Facebook. I had been working as a digital designer for 6 years or so and after the initial thrill of getting paid for creating and designing wore off, I became disillusioned by the world we were supposedly creating; a world mediated by a third party, that is to say the internet.
I guess I became very conscious that what I was designing was hollow, my life devoted to creating variations of clickbait. Automation was the terror of the day and I didn't want any of it, so I had my live-laugh-love moment and decided to quit my job and become an artist.
How would you describe your work to someone who has never seen it?
I describe it as reduced with an emphasis on material. I labour over reduction, I think my works are disciplined to a degree that is still human. A friend of mine calls it organic minimalism, which I like.
You explore what makes a painting in the digital age in your art. How do you see the role of conventional painting in the face of technologies like AI-generated art and virtual reality?
It's sort of a cliche to talk about how antiquated conventional painting is, but unfortunately, it's just a fact. Despite this, it's possibly the most accessible intimate expression of human creativity and for that reason, I can't see it ever leaving, we'll always need conventional painting. AI is already incomprehensibly mind-blowing and it already threatens the end of nearly every occupation, does this include the end of human creativity?
We're seeing it play out in Hollywood with the writer's strike; a question of what makes a work human, or more broadly it asks what makes a work worthwhile, and even, what is art? I am for some reason attached to the notion of a 'painting' and try to explore this notion in a way that can't be computer-generated. That is, rather than creating an image I look at the physical composition of what makes a painting – such as canvas, stretcher bars, paint – and reconfigure these to consider what makes it a painting and not an image on a screen for example. I also consider how works can and will be perceived as time passes, things that assert a painting as a corporeal object.
Hand on heart – how much time do you spend in front of the screen?
I hate it, so all the time.
Tell us about your creative process. How do you get from idea to finished artwork and how do you know when one of your works is finished?
It's a bit circuitous my process – I think, I plan, then the material doesn't behave right or the overall effect is not right, and I think and plan again. I recycle a lot of works if they aren't quite right, and I mean a lot. Ultimately I listen to the material and I try to forefront surface and texture, nuance the eye perceives that the screen might interpret differently. It's actually a very anxious, often self-conscious process and sometimes that comes across. I know it's finished when I sense a freshness or mystery to the work and I want to continue looking at it. I sit with works for days or weeks before I decide if it's done.
In an interview with En Place, you talked about the existential crises you have stumbled through to come to your authentic artistic self-expression. What was the most important thing you have learned about yourself through this?
I was a high achiever growing up, which goes hand in hand with being very competitive, and I behaved as if success had criteria that was able to be marked by a teacher. The trouble with art is that it's only interesting if it feels like you have an insight into the artist's psyche, not something fashionable, not something contrived, it has to be intimate and that is intimidating. Someone once told me that art has to be radical, and I've been trying to figure out my own version of radical.
A few years back I had a bit of recognition painting like a surrealist and I was happy developing my technical skill but still, it never felt right. I've learned that art can't be made for other people, you have to push yourself and trust yourself, it has to be a kind of grueling introspection.
You experiment with various materials such as linen, metal, silk, or copper in your works. Could you tell us more about why you chose these materials and what they symbolize for you?
Material and matter is so fascinating to me. Each has so much history and weight that comes along with it. For me, I often use linen or canvas as ersatz for the history of painting. Silk is such an ethereal material that has a glow that can't really be captured by camera, but its transparency is what I really like. I layer silk in the manner an oil painter might layer paint, so in that sense, I'm faithful to painting as a medium.
I also like that it exposes the timber makeup of the painting. Copper ages like we do, in fact much quicker than we do, so I like the suggestion of the passing of time. Ultimately I work across any and all materials because I'm interested in the relationship we, and our eyes, have with real matter. I relate to Alberto Burri's devotion to Material Realism, but I ascribe maybe a more philosophical or even spiritual weight to material.
Your paintings and sculptures are characterized by their minimalist aesthetic and thus have a strong meditative quality. How important are mindfulness and self-reflection to you as an artist?
I would say those two adjectives probably define my artistic voice to a large degree. Despite the thinking and the effort that goes into each work, I want the works to have a stillness to them. I learned this word when I lived in Germany, Augenblick – literally the "eye moment" – the moment someone sees something for the first time. I try to create a memorable Augenblick, memorable for maybe its quietness, its introspection, or even its abjectness. I want the eye to linger or maybe the mind to wander. German has some cracking words, that was another lesson!
I've learned that art can't be made for other people, you have to push yourself and trust yourself, it has to be a kind of grueling introspection.
In your opinion, what makes something art? What role does the concept of intentionlessness in the creative process play for you?
Intentionless – a great question. I wish I could have more of it, I'm so damned intentional. In my process often the mistakes are what makes the work for me, but I have difficulty manufacturing mistakes themselves because I am terrified of being too contrived. Now that you mention it, I will make sure to be more intentionless in my studio this week!
On to your other question, what is art? The eternal question. I have read some great suggestions, "art reconciles us with the world" (Robert Hughes), "art is a lie that makes us realise the truth" (Picasso), "art is the senses' grindstone" (Maholy-Nagy), "art is a constant process of becoming" (Noguchi). I think Noguchi's definition speaks to me most strongly at the moment, it's an internal journey externalised.
What are you currently working on and what are your plans for the future? Are there any subjects or techniques that you would like to explore further?
I'm currently completing an artist residency in regional Denmark which will culminate in a small solo show in Nykøbing Sjælland from 26 October to 7 November. I'm here to continue grappling with the world of textiles by experimenting with new materials and exploring new production techniques… I'm hoping to push my practice in some yet-to-be-determined direction.
I'm also flirting with introducing elements of representation into my paintings, my latest headache. I also want to get more ambitious with my works, with my paintings but especially with my sculptures. And of course, most importantly, being intentionless in the studio this week!
Thank you again for your time, Morgan!
Thanks again for having me.
More about Morgan Stokes
Aesence Feature: Morgan Stokes – Investigating The Concept Of Virtual Gaze
Minimalist Artists To Watch In 2023